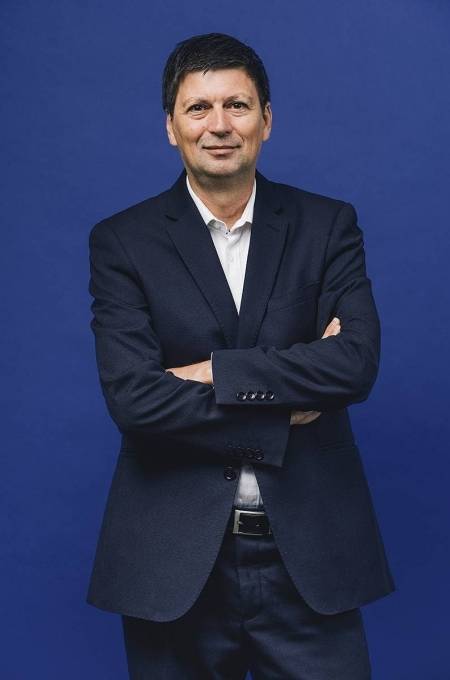 Dr. Pere Fullana
Formació acadèmica
Doctor en Enginyeria Industrial (URL) –Premi Caja Madrid– i grau en Enginyeria Industrial (UAB) i Enginyeria Química (IQS-URL) –Premi al Millor Projecte Final de Llicenciatura (BDFP, segons la sigla anglesa) el 1988. A més, ha complementat la seva formació acadèmica amb estudis de postgrau en Informàtica i Gestió Empresarial.
Activitat professional i investigadora
Actualment és Catedràtic d'ESCI-UPF, on també exerceix la direcció de la Càtedra UNESCO de Cicle de Vida i Canvi Climàtic ESCI-UPF.
Contribueix en diverses activitats educatives de postgrau, principalment enfocades a la supervisió d'estudiants de doctorat. Així mateix, el Dr. Fullana és professor del Màster en Gestió de Residus (UPM) i Coordinador de mòduls al Màster en Gestió Ambiental (USJ). Finalment, a nivell de grau, també imparteix l'assignatura Gestió de la sostenibilitat en el Grau en Negocis i Màrqueting Internacionals (GMNI) d'ESCI-UPF.
El seu enfocament internacional l'ha portat a presidir el Comitè Directiu de SETAC Europe LCA i a ser el primer membre LCA (Life Cycle Assessment) del Consell Europeu de la Societat de Toxicologia Ambiental i Química (Society of Environmental Toxicology and Chemistry, SETAC). Durant molts anys ha estat delegat espanyol actiu dels comitès de normalització ambiental ISO i CEN. També ha participat des dels seus inicis en la UNEP/SETAC Life Cycle Initiative: la Iniciativa del Cicle de Vida del Programa de les Nacions Unides per al Medi Ambient (PNUMA; United Nations Environment Programme, UNEP) i la SETAC. El Dr. Fullana també ha participat en el desenvolupament del Protocol de Gasos d'Efecte Hivernacle (GHG Protocol) per al càlcul de les emissions en tota la cadena de valor (Scope 3) i producte, i actualment és membre del Grup d'Experts sobre Canvi Climàtic de la Unió per la Mediterrània (Union for the Mediterranean, UfM).
L'any 2009 va ser guardonat amb el Premi a la Millor Contribució Científica per la Societat Internacional d'Ecologia Industrial en la IV Conferència Internacional sobre Gestió del Cicle de Vida, LCM2009. El 2008, la Càtedra fou guardonada amb el Premi Medi Ambient 2008 a projectes de recerca, desenvolupament i innovació encaminats a la mitigació del canvi climàtic, atorgat pel Departament de Medi Ambient i Habitatge de la Generalitat de Catalunya, pel Projecte ECOTOY - ECOdesign in the TOY sector with electrical and electronic devices. Així mateix, la Càtedra fou reconeguda com a finalista del Premi Europe INNOVA 2008 de la Comissió Europea. L'any 2013 va rebre una Menció a l'Excel·lència Energètica per part de la Generalitat de Catalunya i el 2018 va rebre el Premi a la Contribució Científica més rellevant en el Congrés de RECUWASTE pel projecte LIFE Zero Cabin Waste, a més del Premi a la Millor Presentació Oral i el Premi al Millor Pòster d'Estudiants de la conferència LCA Food 2018, celebrada a Bangkok, Tailàndia.
Publicacions seleccionades